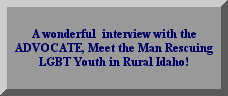 Coffee, Tea or Tolerance?

An LGBT youth center that offers free HIV testing is making a difference for young people in conservative Pocatello, Idaho. 



We have confidence that promoting, celebrating and achieving equity, 

diversity, and acceptance strengthen

 the LGBT community are vital to 

All under One Roofs mission and vision.

Click for Dates and Time.